150th Anniversary Recognition Dinner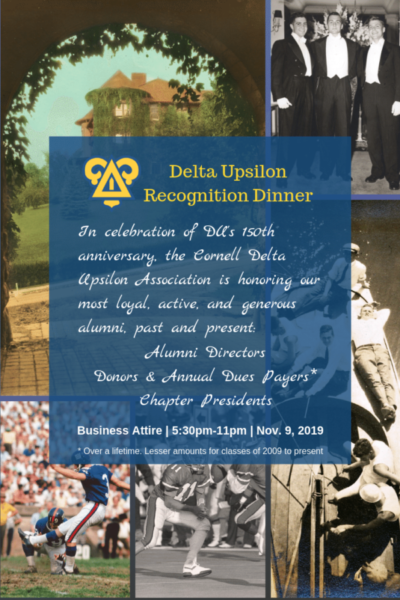 SAVE THE DATE!  11.9.19
---
On Nov. 9, 2019, the DU Recognition Dinner will honor our most generous, loyal and active alumni, past and present. Honored alumni include:
CDUA directors,

Capital campaign donors and alumni dues payers (of at least $1,000 over a lifetime–lesser amounts for classes of 2009 to the present), and

Chapter presidents.
Dress for dinner is business attire. No guests.
Also planned for the weekend is a lunch in the Hall of Fame Room on Saturday and an event (TBD) Friday night at the house. Check back often for more details. Questions? Contact Frank Tataseo '76 at alumni@cornelldu.org.
---
Schedule of Activities
Friday, November 8 | Event at the House TBD
Saturday, November 9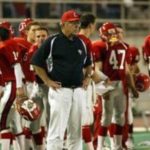 12pm (tent.) | Lunch | Hall of Fame Room | Featuring Sprint Football Coach Terry Cullen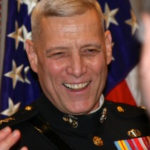 5:30pm – 11pm | Recognition Dinner | 6 South Ave | Featuring USMC Gen. John Paxton '73 Retired
Hotel Block Information

Questions?  
Recognition Dinner Committee

Frank Tataseo '76, Chair

Duane Phillips '78

Scott Keenum '76

Jake Benedict '14

Mark Merila '82

Kevin Bruns '79

Please volunteer! Contact Frank at alumni@cornelldu.org.

Will you be attending Recognition Dinner?
Become a Dinner Sponsor
On DU Recognition weekend, CDUA is honoring its loyal alumni with a dinner and other events, free of charge. We do invite alumni to be a Dinner Sponsor with a voluntary donation of $250; Dinner Sponsors will be listed in the program and recognized at the dinner.
Click the button below, and on the next page, select "$250 Dinner Sponsor" on the top row, and then select "DU Recognition Dinner" under Designation.
Who Will Be Attending:
Tony Cashen '57
Frank Cuzzi '61
John Bruns '67
John Moresko '72
Mark Clemente '73
Dennis Langley '74
John Brewster '75
Mark Dewey '75
William Hoffman '75
Mark Kamon '75
Scott Keenum '76
Frank Tataseo '76
Cal Fastuca '78
Michael Fleury '78
Doug Porter '78
Thomas Scott '78
Kevin Bruns '79
Mark Merila '82
Jake Benedict '14

 RSVP Today!   Reserve hotel room!