Alumni brothers representing six decades of DUs convened in Ithaca on the weekend of November 8 to celebrate the Cornell chapter's 150 years on the Hill and to be recognized for their financial contributions and service to DU.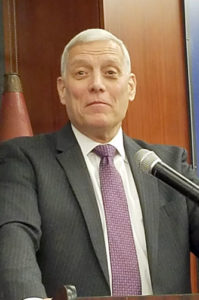 The highlight of the weekend was the recognition dinner's keynote address by retired General John Paxton '73, USMC. The former chapter president, who rose to become a four-star general and 33rd assistant commandant of the Marine Corps, entertained and moved the brothers with his recollections and the lessons learned decades ago at 6 South Avenue and since.
His classmate, Mark Clement '73, warmed up the assembled alumni with his humorous and touching remarks about his association with generations of DUs.
The planning committee, chaired by Frank Tataseo '76, organized a weekend of activities that included a Big Red hockey game, a tour of Cornell's wrestling facility, and a lunch at DU. A warm thank you to Sprint Football Coach Terry Cullen, who spoke at lunch.
CDAU thanks Scott Keenum '76 for his contributions to the success of the weekend, which included working with caterers and setting up for three meals.
CDUA also thanks the large number of alumni who each contributed $250 toward the costs of the recognition dinner. They included the following:
Robert H. Ainslie '78
Robert R. Baldini '74
Anthony B. Cashen '57
Mark J. Dewey '75
Cal T. Fastuca '78
Douglas A. Herron '72
William J. Hoffman '75
Dennis J. Langley '74
Joe Laquatra Jr. '74
Daniel J. Leonard '79
Robert Mauro '72
Gerard M. Miknis '72
Scott A. Millhouse '76
James T. O'Hargan '72
Dominick N. Pasquale '57
John M. Paxton Jr. '73
Douglas C. Porter '78
Michael L. Sandul '76
James N. Seeley '75
Randy M. Shayler Sr. '72
Robert J. Straka '82
Frank A. Tataseo '76
James E. Thul '75
Robert J. Verna '68